Southampton's Community Provides Over 475 Dinners To People In Need On Thanksgiving
Image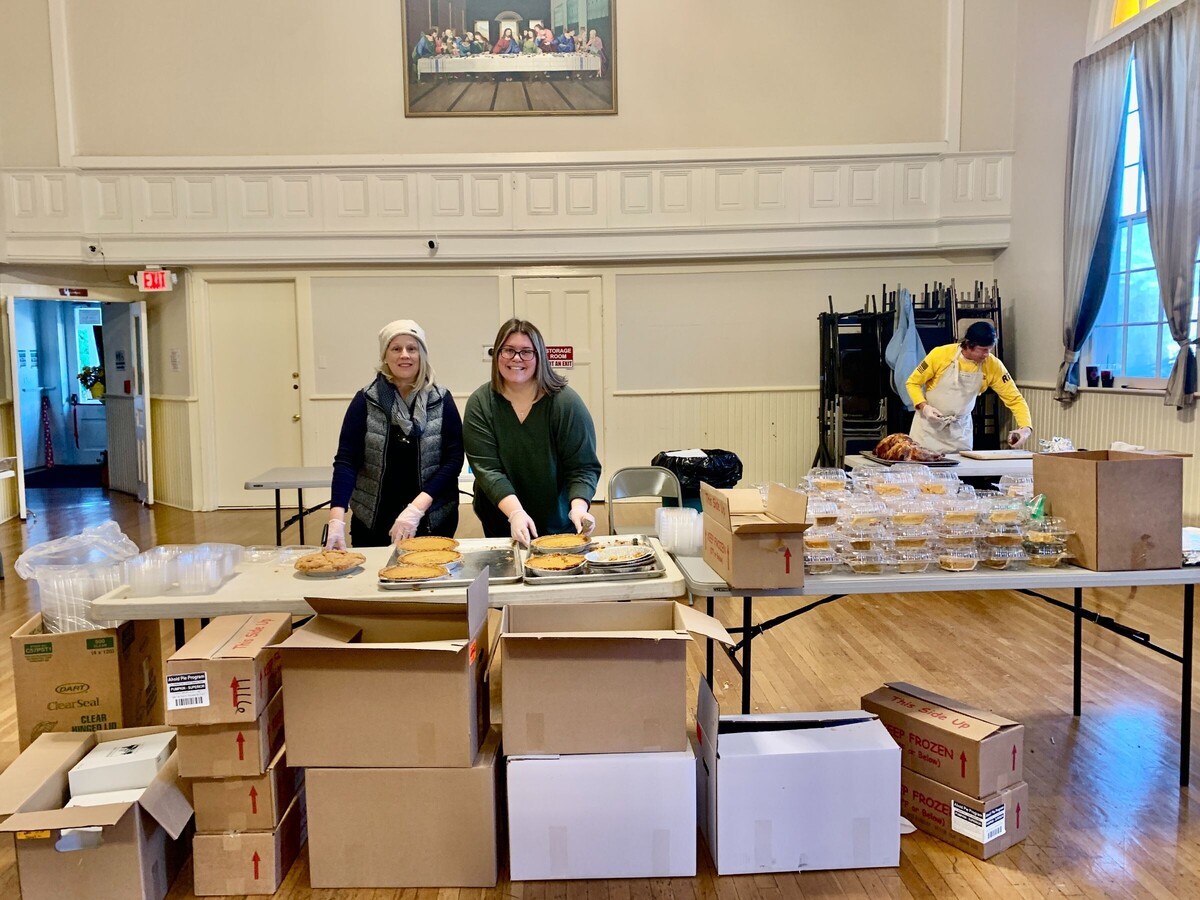 On Thanksgiving, Southampton prepared a feast in its community for anyone in need of a Thanksgiving meal.
Volunteers from all over Southampton came to the Methodist Church located at 160 Main St. Southampton N.Y. to donate their time assembling over 475 Thanksgiving meals. These meals could be picked up, however, the volunteers asked people to reserve them in advance. They also had volunteers drive the meals to people's private homes to make sure those who couldn't come to the church could still have dinner. Donations of all sorts came in; turkeys, vegetables, pies, money, and much more to support the cause of feeding those who need to be fed.
"Feeding and caring for people is key to our faith." Said Pastor Joanne Utley.
One of the main organizers, who brought in a lot of the volunteers, is Densie Smith Meachum. She is one of the people in charge of bringing the community and volunteers together. Denise is from Shinnecock and grew up locally in the Shinnecock Hills. Her wish is to serve other people, and it comes from growing up with a loving family that fed and gave back to anyone in need. This Thanksgiving, her husband, along with many members of her family came to volunteer.
"I'm from a family of feeders." and "It's in my DNA to feed people!" were both statements made by Densie Smith Meachum.
Many people from the community volunteered in many different ways. Among them was Zach from the restaurant 75 Main. He volunteers on a yearly basis, offering his ovens to cook the turkeys at his local restaurant as well as assembling the meals on-site himself.
"Everyone needs to help, we need to do our part. I feed myself every day. And I feel guilty if I don't do this for other people in need. It's Thanksgiving, we have to give back!" Said Zach Erdem, Owner of 75 Main and Bleu Mar.
He continued his support by saying, "This is my priority. I have to be here and make sure that this is getting done. Then of course my restaurant runs with my team. I have a great team there, but this is more important than anything else." Zach Erdem, Owner of 75 Main and Bleu Mar.
The Southampton Community has been organizing this event since March 2020, when Covid first broke out. They were shocked by how many in the community were in need. This group provides food to both the homeless and town officials; people in all different stages in life. In the first year they carried out this event a church from East Islip drove out to pick up 60 dinners for members in need.
"This has been an interfaith journey that cuts across different faiths," said Pastor Joanne Utley.
To carry out this event, it takes the help of all the hardworking volunteers. People start driving and picking up their food around 10 am and are served their meal. Many of the volunteers involved also deliver the food straight to people's homes. It's as simple as calling and reserving a meal, no judgment or questions at all. It's just a way to be thankful. Southampton has one of the wealthiest zip codes in the world. And yet they have over 400 people who are here looking for a meal. This year, nursing homes have been a prime destination for homemade dinners, as well as many other seniors. People don't realize the need that exists in the aging population for something as simple as providing a Thanksgiving meal.
As Irene Donohoes says, "I get up early to help out because everyone here realizes how fortunate they are. This is a simple way that we can just give back and help our community!"